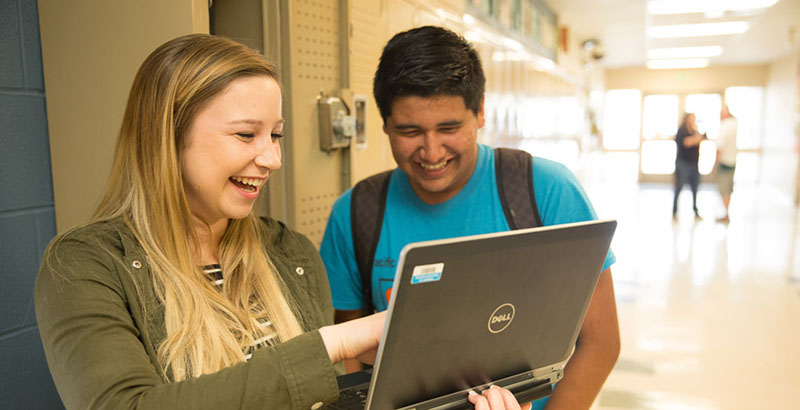 Gonzalo Birrueta didn't just like playing video games as a kid; he liked thinking about how they were made. In middle school, he'd experiment with coding, watching YouTube videos for help. But it was easy to lose motivation — he didn't have many people he could talk to about coding in Quincy, a rural town of 7,000 perched above the Columbia River in Central Washington state.
Computer science offerings have grown over the past 10 years, but rigorous courses can be hard to come by, especially in rural areas. While 58 percent of rural schools report teaching some type of computer science class, less than half of those actually teach coding, and only 8 percent offer an Advanced Placement option.
But when Birrueta arrived at Quincy High School, he had several computer science classes waiting for him. Quincy had just partnered with TEALS, a free program run by Microsoft Philanthropies that trains tech industry employees to teach computer science lessons in partnership with classroom teachers.
The TEALS model addresses one of the largest barriers school leaders cite to being able to teach computer science: finding experienced teachers. After TEALS volunteers co-teach with classroom educators over the course of several years, those teachers feel confident enough to lead computer science classes on their own.
Now 10 years old, TEALS (Technology Education and Literacy in Schools) reached nearly 500 schools this academic year across 27 states, D.C., and British Columbia, or 15,500 students. Its more than 1,400 volunteer teachers hail from hundreds of tech companies, including Microsoft, Google, Facebook and Amazon. Several volunteers partner with one school where they alternate teaching each day for an hour in the morning before heading to work.
But because most tech industry employees live in large cities, TEALS had to rethink how to deliver instruction to students in rural schools. For these students, TEALS instructors teach lessons over video conferencing, wherein students can chat back and forth with their teacher. For example, an Amazon employee based in Seattle teaches Birrueta's class in Quincy every morning at 8:05 a.m. before he starts work at 10.
"We want to make sure that kids in rural areas, just because they're born in a different zip code, get the same opportunities as kids in other areas," said Kevin Wang, TEALS founder and a former Microsoft engineer.
And students like Birrueta, now a senior, say the program has made an impact on their lives, introducing them to new careers, new cities and new ways of thinking.
"Not only does computer science teach you the technical things, it teaches you to problem-solve in real life as well as think more critically," Birrueta said. "I do think it should become a requirement to at least take an intro class to get exposure and to know that it's there."
A rural school with a computer science track
Lee County High School in Beattyville, Kentucky, was one of the first rural schools to sign up for the program in 2012. It's now considered a TEALS alumni school, meaning that the classroom teacher runs the TEALS program without the help of volunteers. Since the TEALS partnership, Lee County High School has transformed, hiring a full-time teacher dedicated to computer science and creating a career track for students in computer science so they can take multiple classes over four years. About 65 students, or 20 percent of the student body, take computer science classes.
"It's one of the best career pathways we've been able to provide our kids," district Superintendent Jim Evans said.
TEALS bases its introductory course on UC Berkeley's class called "The Beauty and Joy of Computing," while its AP Computer Science A class is based on University of Washington's intro class.
["source=the74million"]